-15%
£99.99
Special Price
£84.99
£63.74

by 25% Code

:TOP25
Prices incl. VAT excl. Shipping
30 day return policy
Very fast delivery
Delivery: 14.08.2023 - 16.08.2023
SKU 992104-0
Motorbike Rear View Mirrors Craftride LS6 Handlebar Mirrors in black pair
Craftride Motorcycle Bar End Rear View Mirrors
Important: This is a universal item, not adapted to a specific model. In many cases, individual adjustments are required for mounting. Please check the dimensions and pictures to see if mounting is possible for your motorcycle
No E-Mark
Mirrors for mounting on practically all handlebars
Made of high quality aluminum
Slightly blue tinted Mirrors glass ensures optimum visibility even in strong sunlight
Adapter for mounting on 7/8 "(22mm) inch handlebars
Mirrors glass can be positioned as desired: facing inwards or outwards, above or below the handlebar
Dimensions: Mirrors glass length 10.5 cm, width max. 5.5 cm
Attention: Mirrors dimensions are smaller compared to approved models (see dimensions given above).
Scope of delivery: Motorbike side Mirrors right and left (pair), adapter
Other products you might like

The handlebar mirror set LS6 by Craftride in black
Safety is the highest rule in road traffic. This includes taking care not only of one's own safety but also that of other road users. Handlebar end mirrors can be a great help on the motorcycle. The mirrors give you an overview of what happens behind and beside your motorcycle on the road. In addition to the safety aspect, handlebar mirrors are often replaced by new motorcycle accessories due to their design. Handlebar mirrors are available in different styles, colours and shapes to suit almost every bike, whether chopper or enduro. Motorcycle mirrors combine functionality, safety and the individualization of your bike with minimal effort.
Also the motorcycle mirrors "LS6" of the manufacturer Craftride are with their puristic design in black optimally suitable for almost every machine. Due to their universal fit they can be mounted on practically all motorcycle handlebars. They are installed in the bar ends. Their slightly blue tinted mirror glass ensures optimum visibility day and night. The tinting maintains visibility even in strong sunlight. The mirror glass of the handlebar end mirror can be positioned as desired. You can decide for yourself whether it should point inwards or outwards and above or below the handlebars.
Made of aluminium
Simple design in black
Can be mounted on almost any handlebar
High-quality mirror glass
Light blue tinted against solar radiation
Optimum visibility day and night
Mirror glass can be positioned flexibly
Delivery as pair (right and left)
Incl. adapter for 7/8 inch (22mm) handlebars
Without E-mark
If you have decided for the motorcycle handlebar end mirrors "LS6" from Craftride, you will receive with your delivery a set of mirrors for the right and left side of the vehicle as well as an adapter for mounting on 7/8 inch (22mm) handlebars.
Note: Please note that the Craftride mirrors are "LS6" for the handlebars of your motorcycle without E-approval.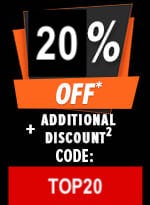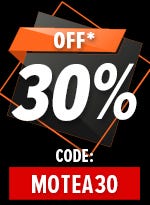 Be the first to review this product