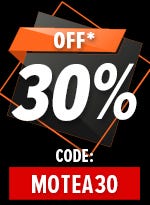 The Motocross stand - the key to success in motocross
Motocross is not only a hobby, it's a lifestyle. It's a way of life that requires the right equipment and preparation in order to be successful. One of the most important pieces of equipment for any motocross enthusiast is a motocross lift. This lift allows you to easily raise your motorcycle to the optimal height for servicing and maintenance, allowing you to keep your bike in peak condition for every race.
Find the perfect Motocross Lift at Saturn At Saturn, we offer both stationary and mobile motocross lifts, so you are sure to find one that suits your needs. Our lifts are made from high-quality materials and come with all necessary tools and accessories for easy installation and operation. The lifts also feature adjustable arm extensions, allowing you to adjust the lift to fit the size of your motorcycle.
Benefit from our advantages In addition to being able to purchase our motocross stand online or at one of our more than 150 stores across Germany, we also offer a variety of other advantages: - Fast delivery within 1-3 days - 30 day returns policy
Order your Motorcross Lift now! So don't wait any longer - get your own Motorcross stand from Saturn today! With our wide selection of products, convenient shipping options and competitive prices, you won't be disappointed! Order now and take advantage of all these benefits!