by 30% code: CYBER30£52.49
30 day return policy
Very fast delivery
Delivery: 04.12.2023 - 08.12.2023
Sku: 786898-0
Alarm Brake Disc Lock 120dB BS-Motoparts Theft protection Motorbike black
Alarm volume: 120dB
Waterproof and weather resistant
Compact and functional design
For absolute theft protection of motorbike, scooter or ATV
Motion sensor triggers alarm at slightest shock
Function: Alarm is automatically armed 10 seconds after the lock is locked. When the motorbike is moved, the alarm sounds for 10 seconds and then automatically arms again. When the motorcycle is moved again, the alarm goes off again.
Scope of delivery: brake disc lock, 6x button batteries, 2x key, 1x Allen key
Size: 8.5 x 5.5 x 3 cm
Weight: approx. 360g
Other products you might like

Alarm brake disc lock 120dB by BS-Motoparts suitable for your Motorbike
If you love your motorcycle, you want the best possible protection against theft. Especially if you don't have your own garage for the bike and it's outside, where everyone can get hold of it, you should take precautions in terms of safety. The brake disc alarm lock from the manufacturer BS-Motoparts combines quality and safety in one product. It is ideally suited for theft protection of motorcycles, scooters or ATVs.
The lock for the brake disc of your machine has a 7mm thick and hardened metal locking bolt, which provides absolute stability and protection. An alarm is automatically activated 10 seconds after you have locked it. If an unauthorized person tries to move your motorcycle, the alarm will sound for 10 seconds. It will then re-arm and resound each time the motorcycle is moved. Even the slightest shock is enough for the motion sensor to sound the 120 dB siren alarm. In addition to the functionality of the motorcycle lock with alarm, it also convinces with a compact and lightweight design. In addition, the motorcycle theft protection is waterproof and weatherproof.
Optimum anti-theft protection for motorcycles, scooters and ATVs
Motion sensor triggers when even the smallest vibrations occur
Loud alarm with 120 dB
Automatic alarm activation 10 seconds after locking
Compact design
Waterproof and weather resistant
Hardened, 7mm metal locking bolt
Weight: approx. 360g
Dimensions: 8,5 x 5,5 x 3cm
Highest protection is important to you for your motorcycle? Then the brake disc lock with alarm is the top accessory for you and your bike. If you have chosen the right one for your motorcycle model, you will receive the brake disc lock, 6 button batteries, 2 keys as well as an Allen key with your delivery.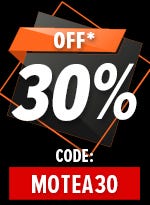 Downloads
Mounting instructions


Be the first to review this product