by 35% code: MOTEA35£45.49
30 day return policy
Very fast delivery
Delivery: 08.12.2023 - 14.12.2023
Sku: 536944-0
Brake lever lock 22 mm Theftprotection 9x4 cm BS-Motoparts black Alu
Brake lever lock / handle lock
Easy handling
Throttle handle lock
Front brake is locked
Increased security against theft
High signalling effect against thieves
Easy to attach without mounting
Made of high-strength aluminium
Suitable for all motorbikes with 22 mm handlebars
Small dimensions: approx. 9 x 4 cm
Scope of delivery: 1x brake lever lock, 2x key
Other products you might like

The motorcycle brake lever lock from BS-Motoparts
If you love your motorcycle, you want the best possible protection against theft. Especially if you don't have your own garage for the motorcycle and it is outside where everyone can get to it, you should take precautions in terms of security. Motorcycle locks can help here. The handlebar lock from BS-Motoparts combines quality and safety in one product. Made of high-strength aluminium and specially designed, it blocks the throttle handle and brake lever, making it difficult for a thief to move the machine.
Extremely easy to install without assembly, you have increased the security against theft on your motorcycle within a few seconds. With its small dimensions of just 9x4cm, you can easily remove the handlebar lock if necessary, save space and stow and transport. So you can be sure that you always have your motorcycle lock with you for theft protection. In contrast to standard motorcycle locks, the advantage of this handlebar lock model is that the alleged thief can immediately recognize it as such. In addition, the highly visible lock reduces the risk of forgetting it as a driver. Because an inconspicuous lock for the brake discs is often forgotten and can then lead to damage to the brake system or to the motorcycle tipping over.
Lock for increased security against theft
Special design blocks gas handle
Front brake is permanently applied
Maximum difficulty in moving the bike by unauthorized persons
Easy attachment to handlebars without assembly
Optimally transportable and stowable
Suitable for motorcycles with 22 mm handlebar diameter
Dimensions (LxW): approx. 9 x 4 cm
Colour: black
You have been affected by theft before or don't want your bike to be next? Then order in our shop the brake lever lock from the manufacturer BS-Motoparts and benefit from better protection and increased security for your bike. The top article is suitable for all motorcycles with a handlebar diameter of 22mm. Included in delivery are a brake lever lock and 2 keys.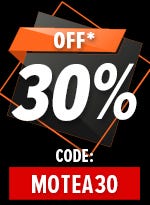 Be the first to review this product