by 30% code: CYBER30£52.49
30 day return policy
Very fast delivery
Delivery: 04.12.2023 - 08.12.2023
Sku: 475819-0
Motorbike Tank traction pad lateral Zaddox Tank Grip Pad M in black
Important: This is a universal item, not adapted to a specific model. In many cases, individual adjustments are required for mounting. Please check the dimensions and pictures to see if mounting is possible for your motorcycle.
Tankpad side grip M
High body stability
Protects paint from abrasion
For side tank area
Strong 3M adhesive
Universal fit can be cut to size
Prevents fatigue
Extremely durable surface
More control for all driving manoeuvres
Special knob shape for improved grip
Size (LxW): 240 x 90 mm
Supplied as a set (right and left)
Note: The listed models serve only as an example. Please check the dimensions and pictures to see if the tank pad fits before buying.
Other products you might like

The side tank pad "Grip M" from ZADDOX in black
If you ride a motorcycle, you love your vehicle and take care of it as well as you can. In addition to regular maintenance and repairs, this also includes protection against external damage such as dents or scratches. There are many ways to protect your motorcycle from scratches. One of these options is pads. Thanks to their high-strength adhesive layer, they are attached directly to the spot on the motorcycle that should have scratch protection. Thanks to their textured surface, most Grip Pads, as their name suggests, also offer maximum grip for the rider. This makes for safer and more relaxed riding with ideal grip on the machine.
The ZADDOX "Grip M" side tank pads are a product with high quality, high-quality design and maximum grip and protection. The tank pads are stickers that are attached to the side of your motorcycle tank. Their special nubbed surface provides a better grip between rider and motorcycle. The Grip Pads give you more control on your bike when braking, accelerating or leaning. In addition, the pads contribute to significantly higher body stability and prevent fatigue. In addition to grip, the ZADDOX "Grip M" tank pads have the function of providing optimum protection for the tank of the motorcycle. Highly stressed areas in the knee area of the tank are protected against scratches or abrasion of the paint. Your new tank pads from ZADDOX are easy to attach thanks to their strong 3M adhesive backing. Despite their resistant surface, you can remove them with hot air without leaving any residue if you no longer want them on your motorcycle tank.
Tank Pad for the side
For tank protection and more control
nubbed surface for better adhesion
Strong 3M adhesive backside
Removable without residue with hot air
For more grip in all positions
Paint protection against abrasion in the knee area
Universal fit can be cut to size
Dimensions (LxW): 240 x 90 mm
Delivery for right and left side
The Tank Traction Pads "Grip M" from ZADDOX in black are a product with quality and grip as well as protection function for your motorcycle. Once attached they support the look of your bike with their black design. With their universal fit, the tank pads should fit on almost all bikes. If required, you can easily cut the pads to the required size. With your delivery you will always receive a set of tank pads with one pad for the right and one for the left side of the bike.
Note: This Grip Pad is a universal article. The models listed are examples only. Before you buy, please check the dimensions and illustrations to make sure that the fuel pad fits the motorcycle you want.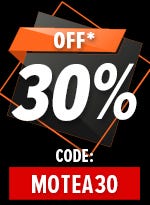 Be the first to review this product