by 40% code: CLAUS40£53.99
30 day return policy
Very fast delivery
Delivery: 11.12.2023 - 15.12.2023
Sku: 841925-0
Wheel Chock ConStands Easy-Fix Front Stand up to 21 Inch black
Features of the ConStands Rocker Easy-Fix
Transport stand for trailers and vans
Parking pole for the garage
Extremely stable design
Safely holds the motorcycle
Eastens service and repair work
Saves space when parking the motorcycle
Secure fastening due to permanent bolting to the ground
Fits all common front wheels and many rear wheels
Technical details
Wheel size: 15 - 21 inch
Weight: approx. 8kg
Tyre width: 90mm - 180mm
Measurement: L:54 x W: 26,5 x H: 42 cm
Other products you might like

The Wheel Chock Easy-Fix from ConStands in black, suitable for your motorcycle
With the Wheel Chock Easy-Fix you can park your motorcycle safely and effortlessly in the garage, cellar and workshop in a matter of seconds or transport it space-saving in a transporter and on a trailer wherever you want. The special feature of the Easy-Fix transport stand is the screw holes provided for fixing the stand to the ground. So you can fix the motorcycle rocker firmly to the ground, transporter or trailer.
Before using the wheel chock, first adjust it to fit the size of the front wheel of your motorbike. Then push the front wheel onto the rocker. With the integrated rocker mechanism, the bike almost automatically takes its place in the mounting stand, without you having to expend a lot of energy. For absolute safety, you should also secure your bike with lashing straps for transport.
Easy, space-saving and quick parking of your bike
Safe transport of your bike
Fastening to the substrate through existing screw holes
Rocker mechanism
Extremely stable design
Can be used in garage, workshop, trailer or van
Simplifies maintenance, repair and service
Adjustable for wheel sizes 15-21 inches and 90-180 mm wide
Own weight: 8 kg
You're not sure your model fits on the rocker? Thanks to its adjustable size, the Easy-Transport-Fix from ConStands is suitable for all common front wheels as well as many rear wheels. So you can easily and precisely adjust it to your bike.
We guarantee tested ConStands® quality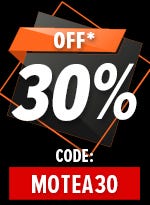 Downloads
Mounting instructions


Safety instructions


Be the first to review this product