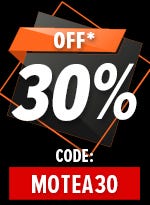 MOTEA - the number one for motorbike covers and accessories in the UK.
Whether you are a passionate motorbike enthusiast or enjoy recreational rides on the weekends, you need to make sure that your motorbike is well-protected every time you get it out of the garage. That's why MOTEA offers you a wide variety of motorbike covers, so you can ride stress-free and in complete safety.
No matter what kind of weather it is - with MOTEA covers you are always prepared! Our motorbike covers protect against wind and rain, dust and dirt as well as UV rays. So your bike will be optimally protected when it stands outside without being exposed to the elements. The cover material also ensures that your motorcycle does not overheat in summer, but remains pleasantly cool even in direct sunlight.
Take advantage of our top-quality materials & craftsmanship MOTEA uses only the highest quality materials for its covers, so that you can benefit from them for a long time. We use breathable material so that no waterlogging occurs and no condensation forms on the surface of the cover during storage. This guarantees optimal protection for your motorcycle at all times. With us, accessories for motorcycles become an experience!
Order now - fast delivery to UK & Europe!
Ordering your MOTEA motorbike cover online is simple and convenient. You will receive your order quickly and reliably within 2 to 5 working days - both within the UK and throughout Europe! So don't wait any longer: visit our online store today and find the right motorbike cover for yourself or your loved ones!