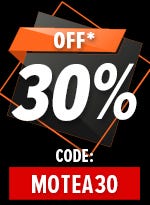 Don't let your motorcycle be one of the 60,000 that are stolen each year in the UK.
Protect your bike with a disc lock, chain lock or alarm and keep it safe from thieves. The most common type of motorcycle theft is opportunistic, where thieves take advantage of an unlocked bike or one that has inadequate security. By taking simple precautions, you can make your motorcycle much less attractive to thieves and help protect it from being stolen.
The best way to protect your motorcycle is to use multiple security devices, such as a disc lock, chain lock and alarm. A disc lock is fitted to the brake disc and makes it difficult for thieves to wheel the bike away. A chain lock should be secured around the frame or wheel and locked to an immovable object. An alarm will deter thieves and make them think twice about trying to steal your bike.
Most insurance companies will require you to have some form of security fitted to your motorcycle before they will cover it, so it's well worth investing in some good quality security devices. You can find a wide range of motorcycle locks and alarms at MOTEA.UK, all at great prices.